Yesterday, Alec and I did our shopping around Orchard while meeting some of my Coach customer
www.chessgalsalelist.blogspot.com
to pass them their purchase, and gosh, the crowd is HUGE. This is my first time experiencing Christmas in Singapore and judging by the long queue at Louis Vuitton, Gucci and Coach.. Christmas is REALLY a time to splur!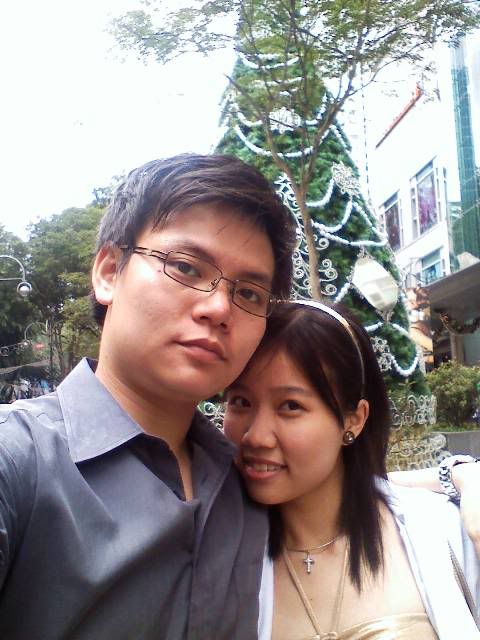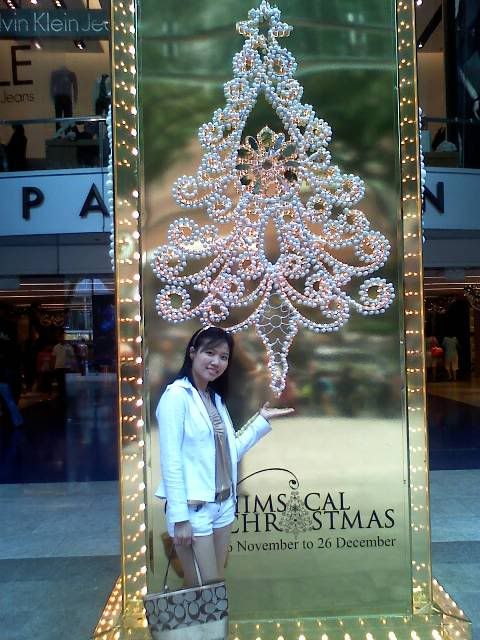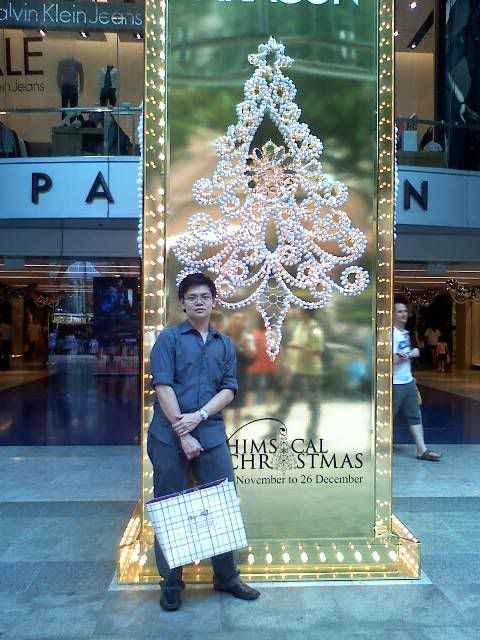 Goldie Chessgal (MNG Gold Blouse+Gold hair band+White shorts from Bugis Street+Coach Gold Striped tote & gold sandal from OG+Gold Belt)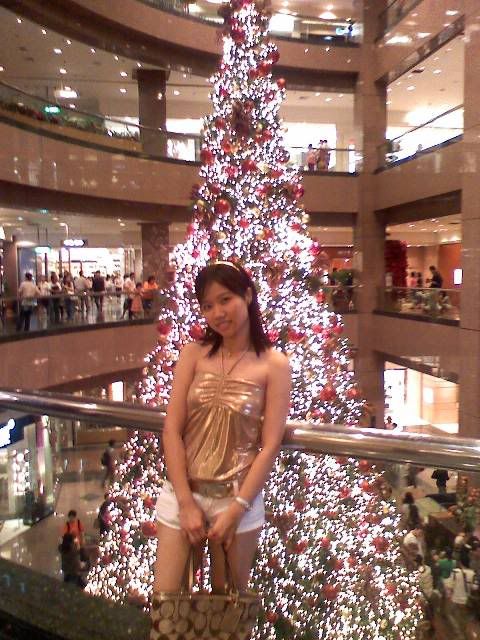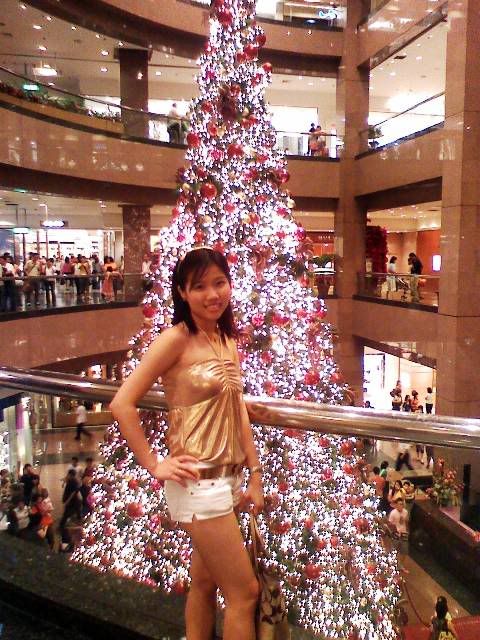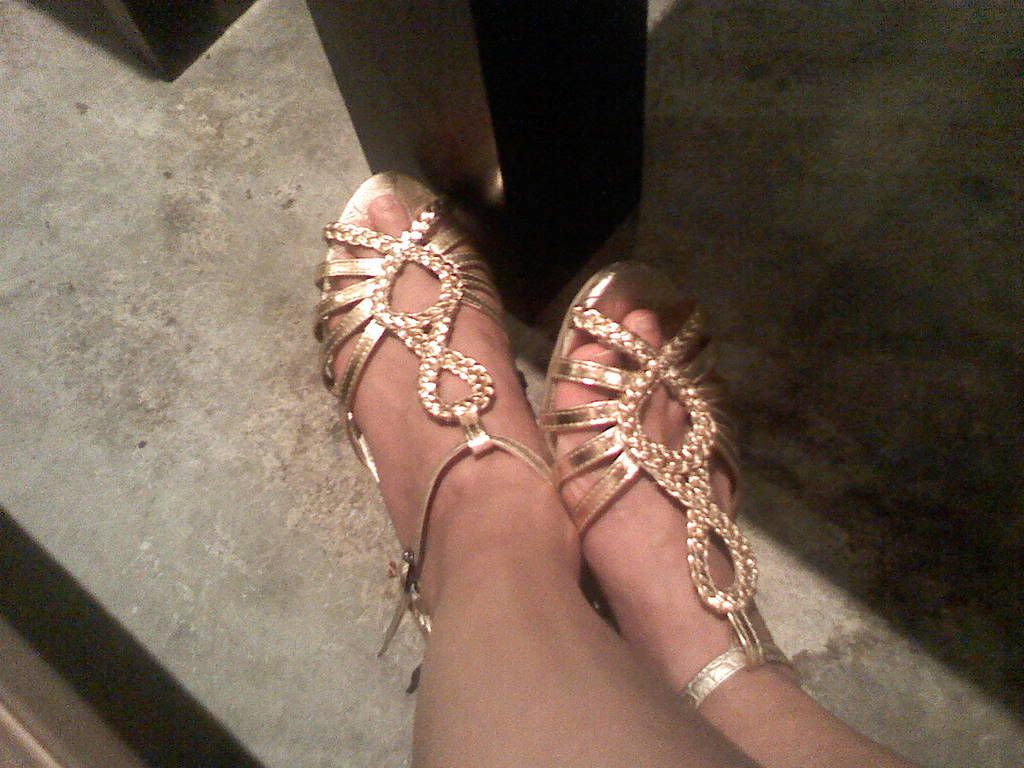 My Alec
One thing good bout shopping in Singapore mall is that, they always provide free wrapping services, if you prefer to do it yourself, then you can have the wrapping papers for free.
We started our limited budget shopping spree at 12pm, bought a Levis jeans, a few MNG blouse and a Nike shirt for my dad. Currently MNG is having a sales, I bought a gold blouse a few weeks back for S$50 but now it is selling at only $25! Darn, I was so frustrated that I ended up buying another gold blouse to take full advantage of the discount! Bought a couple for my sister and mum too.
Alec on the other hand, spend more than I do, he bought himself a Nike shirt, another shirt from Takashimaya (
http://www.takashimaya-sin.com/
) and another shirt from Guess. I start to wonder if Alec was a Shopaholic in his past life, he seems to be more keen to shop than I do. And he ALWAYS force me to buy things... for myself of course. Giving me a whole lot of ideas to dress and in the end, got me hooked to shopping! (The sole reason why I am still terribly broke, I suspect Alec has an evil plan to de-rich me (is there such a word? I believe not) so that he has power over me!)
As we were shopping, Alec decided to step into Burberry, for all I know, I can never afford a Burberry in SIngapore stores (But I can always get a good deal online), but what a pleasant surprise! They were having sales as well, but too bad, the bags that I like was way over my budget so I just tagged along with Alec and pretending to be interested. Alec spotted a cool shirt going for only $40 plus, he gets soooo excited that he asked the promoter 3 times on the price! He tried it on, but tooo bad, his lil belly was a bit too prominent, so sadly he has to say No.
Before we left, he asked the promoter are there any Burberry shop around (I think Alec is infected with a branded virus: To only buy and carry branded stuff like LV, Gucci, Coach). Many times, he has given me hints to get him some Tag Heuer watch, but I just pretend dumb not to notice it :). Pointers to gf out there, NEVER EVER spoilt your bf, it is hazardous to your bank account!
Since Christmas is just around the corner, Alec and I decided to have our very own early Christmas dinner on 23rd Dec at The Giraffe. And for non-Singaporean, NO, it is not at a zoo nor it serve any Giraffe meat, it just happened to be name as such.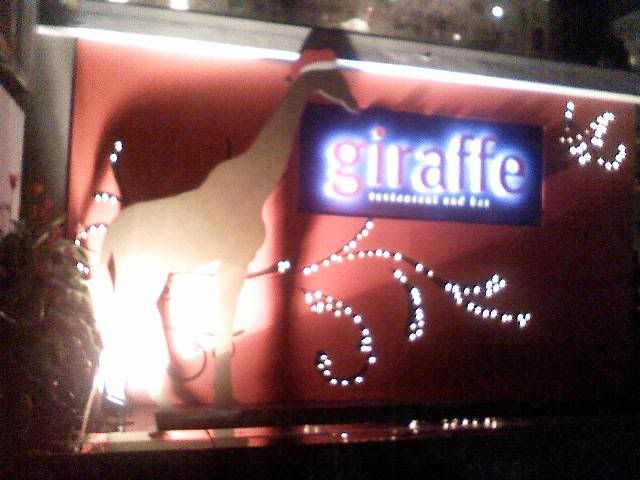 It is just beside Dhoby Ghout MRT station, in front of Plaza SIngapura. Alec read some review on the restaurant so decided to give it a try. The place was pretty nice and romantic. There is a big man-made pond directly in front of the restaurant. It was raining that day, so can't get a good picture of the place.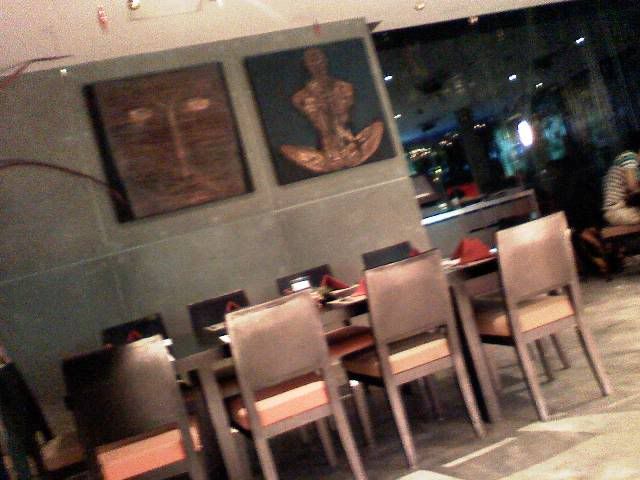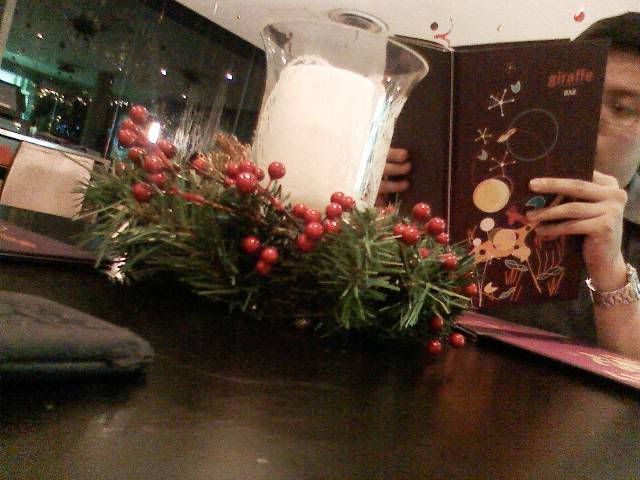 They have this cozy lounge so we decided to sit on the sofa instead of the dining table. A good place to chill out with friends.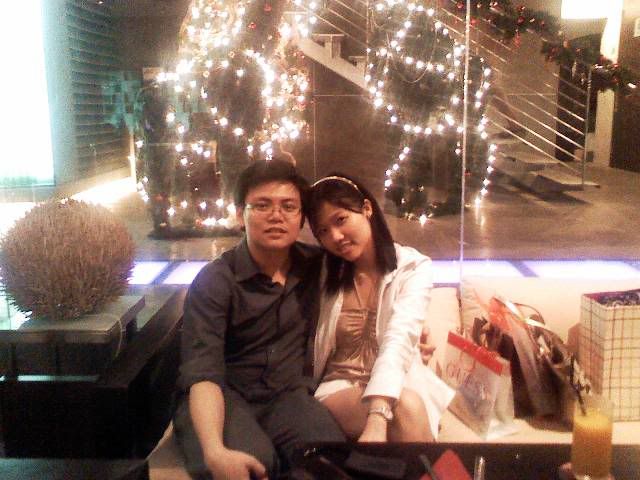 There weren't much of a choice for the main course, so i decided to try the Tagliatelle All' Arrabiata Con Polio. Yes, I seriously have no idea what it was until i consult the waiter. While Alec decided to try the Giraffe 7oz Burger, the house's specialty.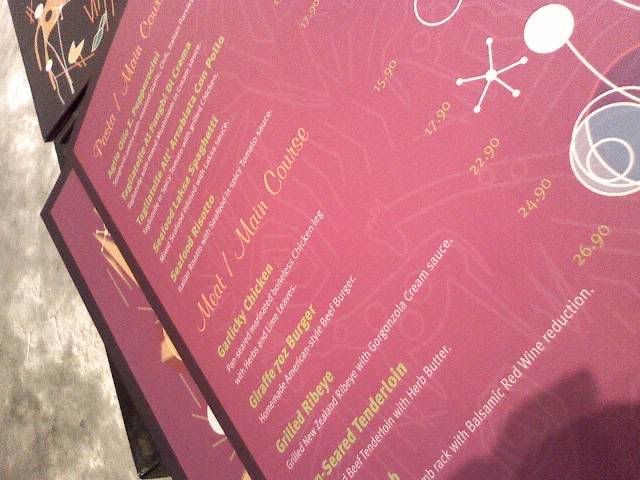 Tagliatelle All' Arrabiata Con Polio aka Spicy Chicken Pasta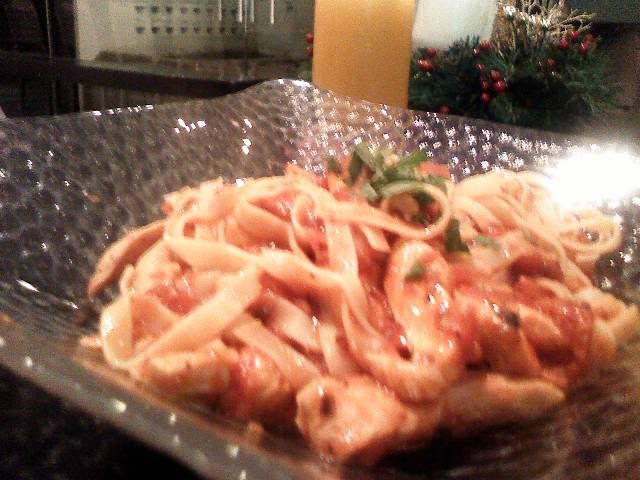 Alec's Giraffe Burger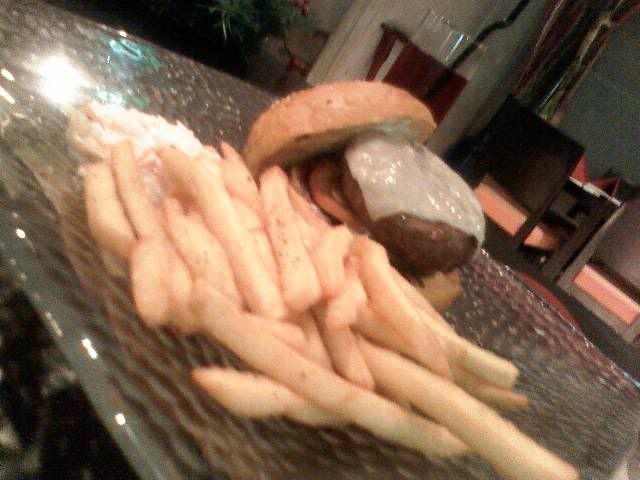 Before the main course, we were served a complimentary bread with some greenish olive (Seriously have no idea what was that).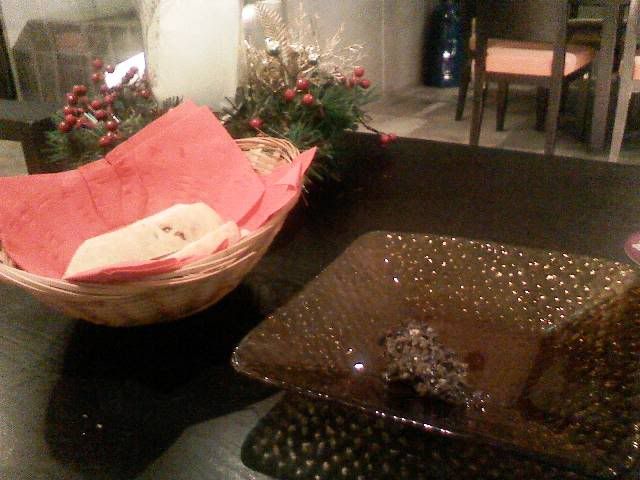 Taste wasn't that bad.
We ended our meal with a 'to-die' for Molten Lava Ice-cream.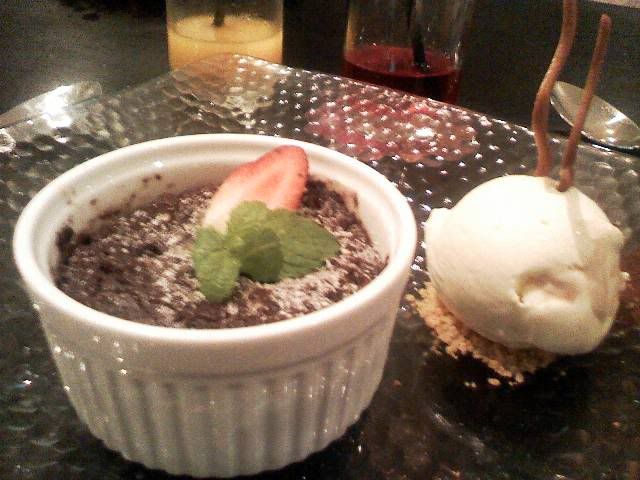 Oh... it is soooo good! The texture of the chocolate cake is so fine and when it was served, it was still steaming hot and the choco melts together with the ice-cream, it is just heavenly.
The price is pretty reasonable, if we were to eat this in Msia, it can easily hit up to RM100 plus! Great place to dine!
We ended our day at 10pm.