Despite not being able to celebrate with my family, I was thankful Uncle Gordon (Alec's Uncle) and family invited us to join in for a Christmas lunch.
Initially, I thought of ordering turkey or ham from Delifrance, but Aunty told us not to buy anything as they have everything covered. So, we just bought bottles of appletizer and chocolates (You can't go empty handed can you?)
Uncle Gordon and family have been very kind to both Alec and I, they are very accommodating and always kept food vouchers or coupons for us to take advantage of certain places as they know we are practically living on a tight budget.
Uncle Gordon's family has become like an adopted family to us.
When we got in, we were surprised there were presents, (Oh no), I really hope they didn't buy anything for us cause we didn't prepare any presents! Well.. they do! Suddenly I felt guilty for not buying anything but just chocolates!
The lunch was superb! Turkey, ham, eggnogs, pudding, baked potatoes, mayonnaise potatoes, a complete Christmas meal!
Uncle Gordon and Family
Christopher & his gf (Siow Wei)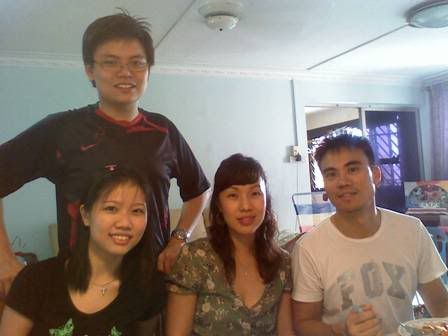 My meal, turkey, ham, pumpkin & veggie
Beef Stew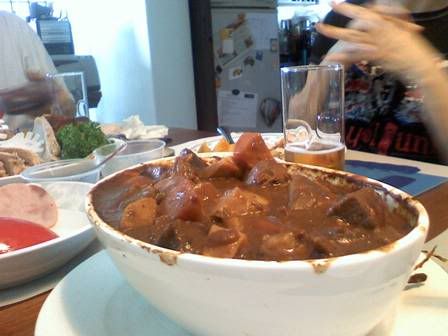 Mayonnaise Potatoes
Yummy! (I forgot to take the turkey's picture, was too busy digging into my meal)
It was a fantastic meal with laughter and jokes. It was a nice Christmas lunch, soothe my loliness and being away from family.
At the end, we exchanges gift (well, it was receiving for both Alec and myself).
I have a lovely pair of earrings from Gerardine and Christopher
and a shower and bath set from Uncle and Aunty.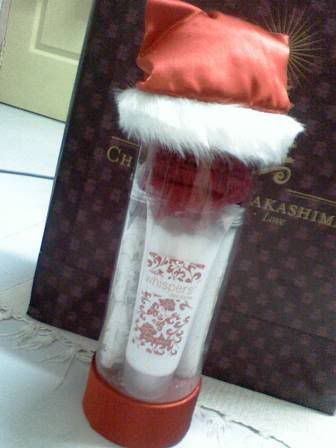 Thank you Uncle Gordon and family for making my Christmas a memorable ones!