Marriage
I like to pester Alec off an on, asking him, when will you propose and marry me? Of course, being Me, I have several conditions before saying 'I Do'.
Just hate to admit, I am more on the materialistic side, those who knows me personally should know who is the real Melissa is, but I've tone down these days. Alec may not be filthy rich, but he is THE ONLY person who can stand my regular tantrum and naggings. And plus, he's a good house man, he does the laundry and the cleaning way better than myself. (Of course).
Oh where was I, oh yeah conditions, so yeah, no simple wedding and I want the whole wide world knows I'm GETTING MARRIED! I want a house, a nice luxury car and a damn ROMANTIC PROPOSAL, (p/s: house & car fully paid for, NO INSTALLMENTS).
Alec is well aware of such conditions, thus, he hasn't proposed. -_-
Nah, not anytime soon anyways, first, seriously man, wedding cost an ATOMIC bomb with an ARM and a LEG. Plus, I want no Chinese style wedding. No Yam Seng, Liquor Free wedding J, I can't take liquor and seriously don't wish to end up like a traffic light and plus, I want my attendees to go home safe (What a way to save!). I want a GARDEN wedding.. but frankly speaking., tuxedo in Msia climate? No very feasible heh? Hmm.. will revise that later.
Anyways, Alec said, he WON'T be able to fill any of those conditions anytime soon, unless he hits a jackpot, and even if he really did hit a jackpot, he won't be marrying me
-_-. Secondly, he is way below my priority list, fourth at the moment, so, if I move up his rank to number one, he WOULD consider to marry me.
First Family
Second Work
Third Studies
Fourth Alec.
So hmm, not anytime soon honey, unless you pay me as much as my company is paying, I don't mind sitting at home and getting S$3k plus a month.
Marriage is no joke, it is a lifetime commitment. A commitment that I cannot give. Damn, why am I talking about marriage? I think my age is catching up.. sigh 23 this year! Maybe it's the middle age crisis.
Been very very busy this week, but managed to take a bit time off to catch up with things back home. Reached Msia at about 4am on Saturday night and spend the night at Alec house for about 4 hours. Then rushed off to Bukit Jalil for my sister's performance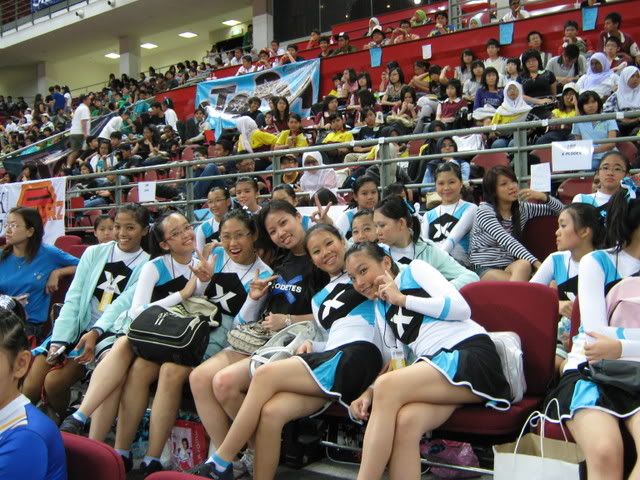 This is their first year and my sister being the captain of the team, there is no way in hell that I am going to miss her debut. Despite my busy schedule and pilling work load, I always put my family first, way ahead others. And so managed to see my sister just minutes before she went backstage.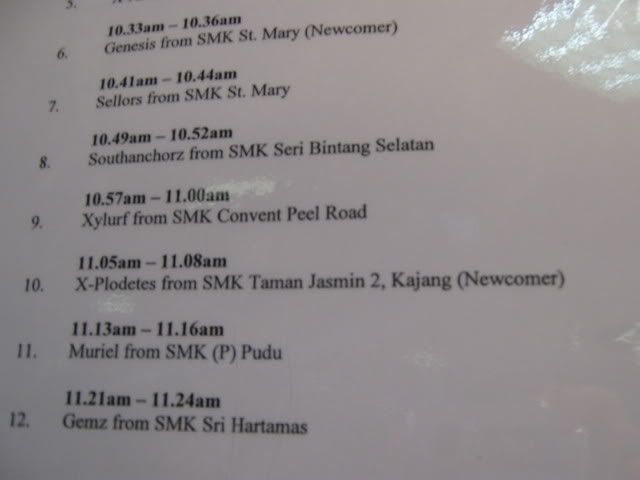 Her team did pretty well but a little hiccups here and there. There were a lot dramas before the formation of the cheerleading squad and protest by those covered-teachers for being improperly-dressed. Lame excuse. But they got thru it and here they are, performing for the very first time in front of thousand over of people.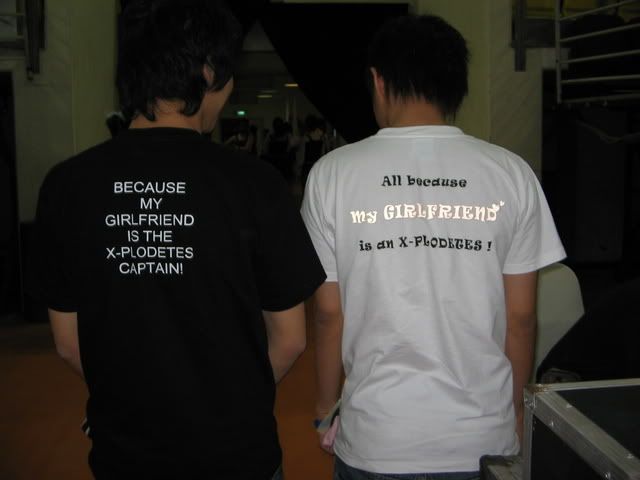 Cheeky Lester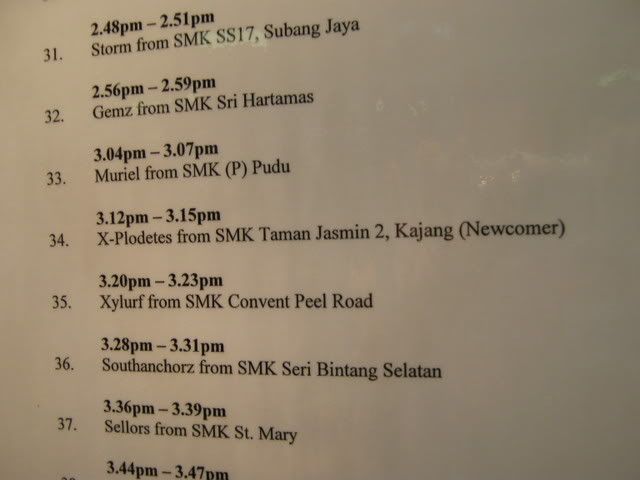 I wont be watching the finals tomorrow, cause my bus is at 3pm, and they are schedule to perform at 3pm, and so I wish her luck and go X-Plodetes!