Me heart me family a lot!
Had a great weekend last week, went back for my mum's birthday and we spent a night at Genting.
I also had my very first taste of gambling!
Being at 23, finally I am legally allowed to gamble (or is it 21? I dunno). Anyways, I was pretty blurry that morning (yes, morning), cause it was 4AM!! (Was watching movie with my family until 3.30am), so Alec the devil, took me around the casino.
It was pretty packed despite it was already 4am, all the crazy gamblers (minus myself) trying to catch the early worms.
I don;t really gamble, so I played the Tai Sai (Big & Small), the easiest to understand game. Alec on the other hand, played black jack 21. The minimum bet was RM50, while mine was RM5.
Long story cut short, I lost RM100, Alec won RM250++.
I blame Alec for my loss. That greedy devil asked me to place 10 bets at one go, Habis... all gone! Thats RM50!
Soon, I lost everything (RM100) hahahah.
We came back on Sunday evening.
The very next day, I went to KLCC to meet Joyce, the photographer.
I was 30mins late, blame Msian cars and confusing signboards.
Soon we take off to our shooting spree...
He is pretty experienced, despite being just 21 years old, while .... i suck at posing!!
My smile was pretty fake and gosh... I suck.
Alec joined me 2hours later and became my luggage boy.
At one point, some tourist thought I was some big shot, and an ang moh asked his friend 'Rock Star?'.
i want to roll on the floor laughing my ass, head, eyes and whatever on me OFF.
Reason?
My make up was super thick with fake eye lashes, Joyce with his gigantic Camera and Alec with my bag and luggage bag.
hahahahahahahahha
Happy sial!! Kembang giler!
Here are the few results, stay tune for more :P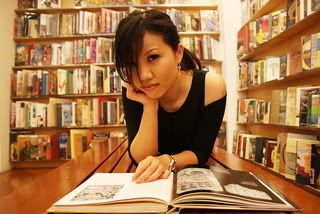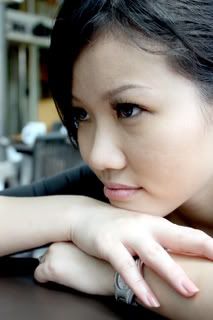 Click here for clearer picture.